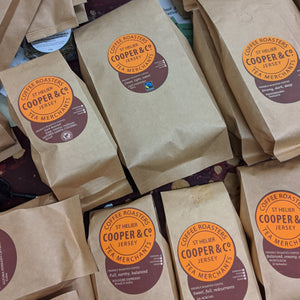 Enjoy our most popular coffees hassle-free and straight to your front door every week or fortnightly with our coffee subscription service for either 6 or 12 months. A 10% discount is applied at checkout which altogether averages out to around 20p per cup of coffee!
The coffee comes in one of our standard 250g bags.
The shipping cost will be calculated at check out. Jersey residents, please check that the 'Country/Region' box says Jersey at checkout for the correct shipping.
Please get in contact with any questions you may have.