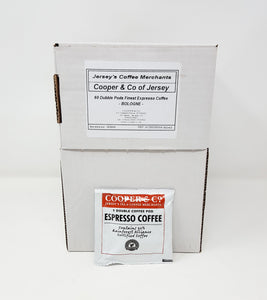 For our espresso shot pods we use our Bourbon Dark coffee.

E.S.E - Easy Serving Espresso
Each pod is a small fabric bag filled with our popular espresso blends, that fit perfectly into any domestic or commercial espresso machine.
Comes in boxes of 60 individual sachets.
Please get in contact if you need more advice.
Please be aware: These are not compatible with Nespresso, Dolce Gusto or similar hard pod coffee machines.